News
5th Oskar Nedbal International Viola Competition 2023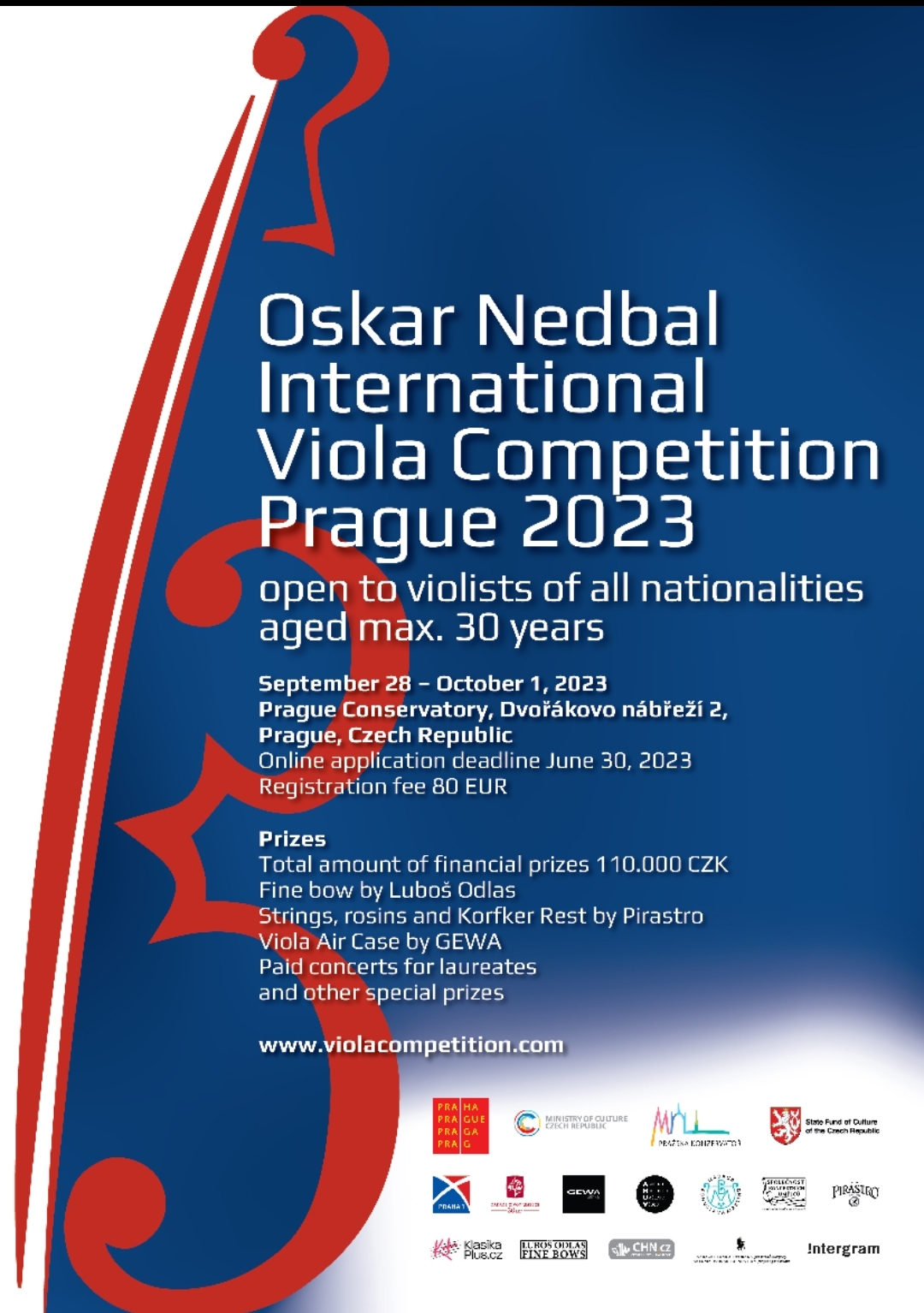 The final results of the 4th Oskar Nedbal International Viola Competition 2022
1st prize – Takehiro Konoe (Japan/Netherland)
2nd prize – Kyungsik Shin (South Korea)
3rd prize –
Joseph Skerik 
(USA)
Competition Laureate - Hwayoon Lee (South Korea)
Honorary mention – Laura Liu (USA), Wilhelm Magner (Canada), Yibo Cao (China), Ilias-Ion Livieratos (Greece)
Special awards
Audience prize - Kyungsik Shin (South Korea)
Prize for the best interpretation of O. Nedbal piece - Ilias-Ion Livieratos (Greece)
Prize for the best interpretation of B. Martinů piece - Takehiro Konoe (Japan/Netherland)
Pirastro Prize for an outstanding young talent - Laura Liu (USA)
Prague´s Conservatory Director Prize for the best Czech competitor – Bohumil Bondarenko (CZ)
Oskar Nedbal International Viola Competition 2022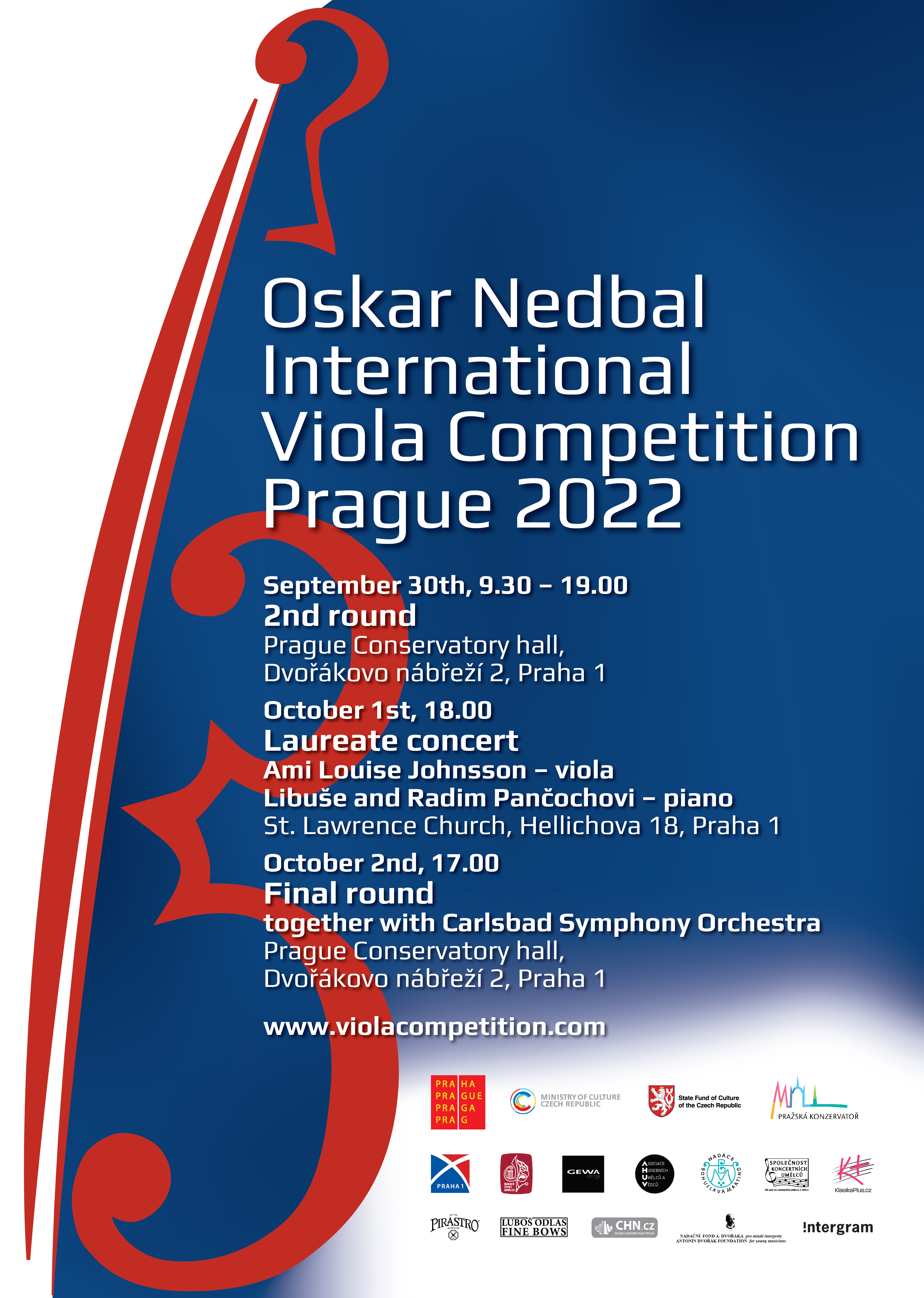 Semifinalists of the ONIVC 2022
Dear violists 
Thank you so much for your marvellous playing on the videos for the  first round of The Oskar Nedbal Viola Competition. The level was very high with excellent instrumental control and personal interpretations. 
In this difficult time with both war and COVID-19 it is very impressive that you keep up the dedication to music and to your instrument. It gives hope for a better future.
It has not been an easy task to find the participants for the second round out of so many qualified viola players.
It would have been great if we could hear many more of you in the second round but as you know only a limited number of participants is allowed.
Congratulations to those of you who are going on to the second round, and if you did not please come back next time.
Tim Frederiksen
Head of Jury
Semifinalists of the Oskar Nedbal International Viola Competition 2022:
1. Yibo Cao (China)
2. Oscar Edin (Sweden)
3. Duleen van Gunsteren (Netherland)
4. Wenhan Jiang (China)
5. Takehiro Konoe (Japan/Netherland)
6. Hwayoon Lee (South Korea)
7. Yat Lee (Hong Kong)
8. Laura Liu (USA)
9. Ilias-Ion Livieratos (Greece)
10. Wilhelm Magner (Canada)
11. Nicol Miekus (Poland)
12. Kyungsik Shin (South Korea)
13. Joseph Skerik (USA)
14. Yuri Yoon (South Korea)
Application deadline is over
Dear violists, Thank you so much for applying for the Oskar Nedbal International Viola Competition 2022! Thank you for your wonderful recordings! Our Jury (Tim Frederiksen, Lech Antonio Uszynski, Kristina Fialová, Peter Barsony and Jan Pěruška) just received them and is looking forward to listening! We expect to have the 1st round results ready on July 14th. We will send you an information email as well as we will write our 2nd round competitors list on our web and social media. We wish you the best of luck!
Questions and answers
Dear violists, we´ve received couple of similair questions from some of you so we would like to answer to most usual ones here.
1. The videorecording must be recorded as a one video without cuts between pieces. The video should be filmed from a fixed camera angle; musician´s hands and face must be entirely visible all the time
2. The videorecording doesn´t have to be from a professional studio. In last two years we´ve learnt that even with a good phone one can make a nice recording. Just please make sure the sound quality of the recording is good.
3. 1st round repertoire - a work for viola unaccompanied (or a movement-s) chosen by canditate. It can by any piece chosen by you for viola solo - contemporary piece, Capricce, Etude - whatever you feel confident with. It can be one or more movements from a larger piece, it´s totally up to you. The only rule is that the whole first round can not be longer than 15 minutes.
 We are looking forward for your applications!
Applications for the 4th competition are open!
we are happy to inform you, that applications for the 4th Oskar Nedbal International Viola Competition 2022 are open! The competition will be held September 29 - October 2, 2022 at the Prague Conservatory, Prague, Czech Republic. Application deadline (together with the videorecording) is July 1st 2022. We are looking forward to see you in Prague!
Results of the competition 2021
What an amazing day! Yesterday we heard 10 wonderful performaces by our finalists in the Prague Conservatory beautiful concert hall.
Even
though all our competitiors would deserve some prize, the final results came from the Jury:
2nd prize –
Weronika Dziadek
(Poland)
2nd prize -
Ami-Louise Johnsson
(Sweden)
3rd prize - Wenhan Jiang (China)
Prize for the best interpretation of O. Nedbal piece - Ami-Louise Johnsson (Sweden)
Pirastro
Prize for an outstanding young talent –
Sebastian Gonzalez Mora
(Canada/Columbia)
Prague´s Conservatory Director Prize for the best Czech competitor –
Mája Wittová
(CZ)
Bravo everybody! Thank you for coming to Prague, we hope you enjoyed it and see you next year!!